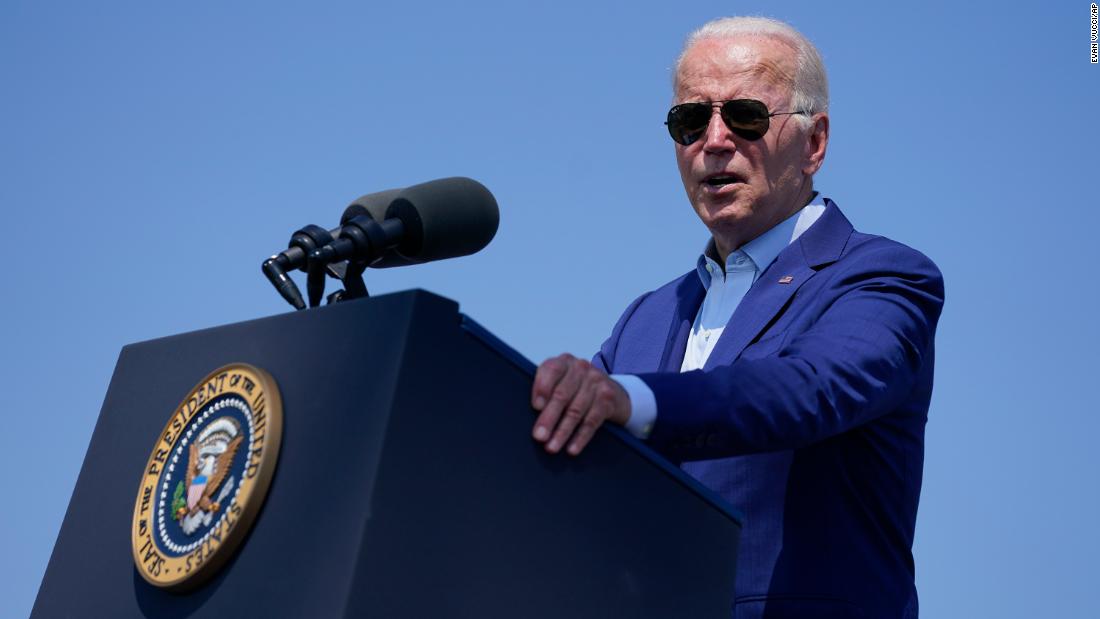 Biden's effort to spur economic competition
Among them are President Joe Biden's administration-wide efforts to strengthen competition across the U.S. economy. It seeks to address growing complaints about how dominant corporations are exploiting their market power, with the promise of benefits for consumers, workers and 21st century capitalism itself. But the effort spans so many actions and executive agencies that it blurs focus on its reach and impact.
White House aides point to an academic estimate that the erosion of competitive forces in the economy would cost the median household $5,000 a year. Even if their efforts could eventually recoup that money, it would only come gradually over a period extending well beyond Biden's presidency.
"That's not going to change overnight," observed Brian Deese, who directs economic policy at the White House and chairs its new Competition Council. "The impact will last for years, and in some cases beyond, down the road."
Biden kicked off the effort a year ago with a far-reaching executive order aimed at promoting competition across the U.S. economy. Its guidelines involve Cabinet departments (including Treasury, Justice, Transportation, and Labor) and independent agencies (the Federal Trade Commission, Federal Communications Commission, and Food and Drug Administration). The initiative touches corners of the economy from Big Tech to meatpacking to professional baseball.
The president who calls himself "Middle Class Joe" consciously invokes his predecessors Theodore and Franklin Roosevelt in his attempt to tame economic abuse. He kicked it off with a trademark line: "Capitalism without competition is not capitalism – it is exploitation."
The surge in competition has already produced significant soft benefits for individual segments of society. Owners of iPhones, for example, now have the "right to repair" their devices at locations other than an Apple store; the company offered this concession after the administration began pursuing such a demand.
Free-market ideologues dismiss Biden's competitive push as a government-enforced class war that would strangle innovation and diminish economic output. But the praise from Republican and Democratic economists signals the depth of concern that, for various reasons, the actual functioning of the US economy is not serving Americans well enough.
"That's good," said Michael Strain, who directs economic policy studies at the conservative American Enterprise Institute. "We've been a bit too lax over the past few decades."
A pending FDA regulation on hearing aids stems from a 2017 bipartisan law, promoted by Democratic Senator Elizabeth Warren and Republican Senator Charles Grassley, and signed into law by President Donald Trump. It would save millions of Americans thousands of dollars each with cheaper over-the-counter alternatives to prescription-only hearing aids from the companies that now dominate the industry.
The appointees pursuing Biden's agenda have sparked controversy. Lina Khan, the chair of the Federal Trade Commission who has made a name for herself as a barbed critic of Big Tech, has troubled fellow Republicans and industry with her aggressiveness, and agency staff with her leadership.
Still, Khan's Justice Department ally, antitrust chief Jonathan Kanter, has received public support from his predecessor in the Trump administration. Kanter's blunt statement: "The new era of vigorous and effective antitrust enforcement has begun."
This new era seeks to look beyond the Reagan-era "consumer welfare standard," which made price effects the key variable in evaluating proposed corporate mergers. He adds consideration of the effects on workers, communities and democracy itself – a growing concern as Silicon Valley giants play ever-increasing flows in information aggregation and dissemination.
The result: six ongoing Justice Department lawsuits challenging proposed mergers in industries ranging from airlines to book publishing. The Antitrust Division also has 19 pending criminal cases that include indictments of executives for conspiring to cut pay for home health workers and a contractor for rigging bids on military jobs.
"There's more recognition of the importance of our work than I've ever seen in my life," Kanter said. "It's intuitive, emotional – a sincere belief that competition offers opportunity.
The president is particularly interested in the constraints of competition for labour, which a
Treasury Department study
argues has lowered wages by about 20%. Biden's executive order targeted "non-compete" agreements that hamper workers' ability to take better-paying jobs at rival companies. Microsoft announced that it would stop using them.
Biden signed bipartisan legislation designed to increase transparency and curb market abuse by three massive trade alliances that control shipping. Agricultural exporters and retail importers cheered.
Agriculture Secretary Tom Vilsack aims to increase market options for farmers and ranchers to sell their meat and poultry in a processing industry now dominated by giant corporations. The department launched a farmerfairness.gov website as part of what Vilsack calls "an effort to level the playing field."
Vilsack doesn't expect quick political upside in red-leaning farm states like Iowa, where he previously served as governor. In fact, the White House sparked immediate resistance, even from some allies, blaming the current inflation in part on "corporate greed" in industries such as meatpacking with limited competition.
"If you think corporate greed is playing a major role in today's inflation, you need to rethink," tweeted Harvard professor Jason Furman, who served alongside Biden as President Barack Obama's top economic adviser. . Like most economists, he attributes today's price increases to the collision of overheated demand with limited supply.
Still, he approves of Biden's efforts to spur competition. "It's a decent-sized deal," Furman said, "especially if it grows over time."