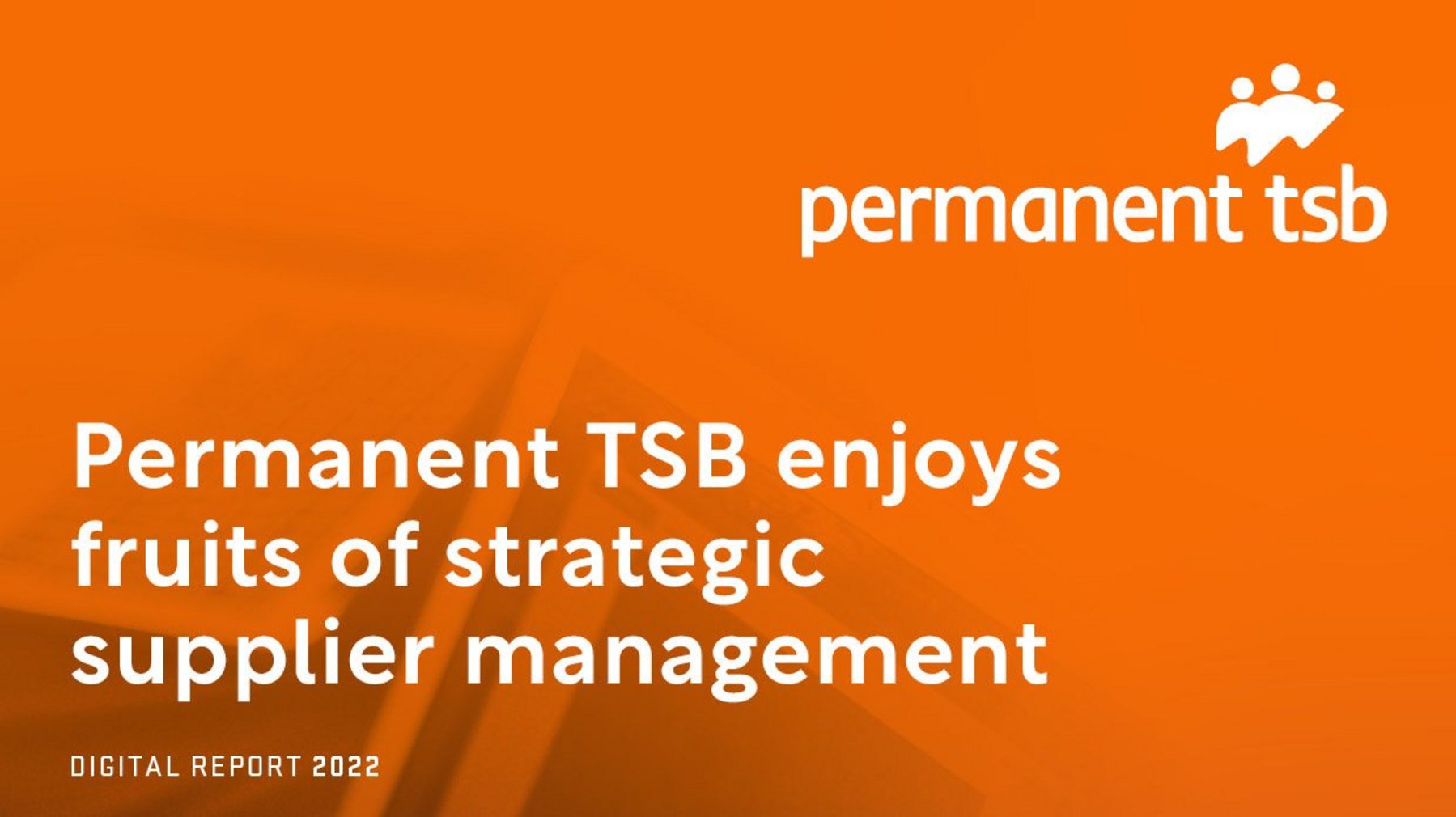 TSB Purchasing and Supplier Ongoing Management Path
As one of Ireland's leading retail banks, Permanent TSB (PTSB) is at the forefront of companies that view sourcing as a means of delivering strategic advantage.
PTSB values ​​remained unchanged over time. It prides itself on its customer service and traditional, personal approach to banking, which is why its branches remain a common sight on the high streets of Irish cities. Yet those same values ​​are also driving it towards a digital future, so that it can meet the modern demands of businesses and customers.
PTSB sees change not as a problem, but as an opportunity, which is why it has embraced the digital reinvention of its procurement function with such passion and focus that the bank has become a benchmark in transformation digital, winning two prestigious industry awards.
At the National Procurement Awards, held in Dublin on September 15, PTSB won two awards: Best Transformation Project and Best External Collaboration Project.
One of the key figures behind the awards is Rachel Dolan, a dynamic and transformational leader in her role as head of procurement and supplier relationship management for PTSB.
Dolan is an outspoken, troubleshooter and problem solver who has not only designed and achieved cost savings, but has also implemented risk and governance frameworks to support business objectives. She graduated from Trinity College Dublin and University College Dublin.
Over a 15-year career, Dolan has developed deep expertise and experience in retail banking operations, service and product development, and organizational design and transformation.
Her program and change management expertise, combined with a strategic approach to organizational and process improvement, made her the ideal candidate to oversee one of the most challenging procurement transformation projects. ambitious undertaking undertaken by a bank in recent times.
Dolan was tasked with delivering a cost optimization program coupled with process and technology transformation supporting the entire source-to-contract journey.
Traditional banking in the digital age
"While we're probably one of the only banks expanding our branch footprint, we also plan to satisfy our customers' appetite for more digital banking," says Dolan, adding, "What we What sets us apart is that we want to be part of the communities we serve. We want to remain a brick-and-mortar bank, with branches where we can meet people and meet their day-to-day banking needs.
"Supporting customers and our community is our top priority, and the procurement team purchases everything we need to serve our customers, such as ATMs, money transfer services, case slips and printed materials.We also purchase to meet employee needs, including canteen and security facilities, as well as uniforms.
The permanent approach to purchasing
PTSB's old-school-new-school banking approach puts it in a unique sourcing position, as it not only maintains and grows traditional banking infrastructure, but also fully embraces the digital world.
"Technology purchases are high on our agenda as we develop and scale our digital solutions," says Dolan.
The Bank has enlisted the support of its partners to ensure that its technology rollout is smooth and responsive to customer needs. A key partner in its digital transformation journey has been Infosys and its digital banking product, Finnacle.
"About 80% of our spend is on technology and professional services," says Dolan. "It helps us deliver better, leaner and more efficient customer journeys through digital apps."
But PTSB's digital ambitions go beyond meeting customer needs; it is also undergoing an internal digital transformation to help it leverage the power of purchasing to deliver strategic benefits.
Enter his award-winning digital transformation project, called Titan: One Team, One Target. To achieve this, PTSB has partnered with Efficio, the world's largest sourcing and supply chain strategy and technology consultancy, operating in 13 offices across Europe, North America and the Middle East. East.
Titan was born out of PTSB's need for significant savings on its third-party expenses, and in just over a year, Efficio helped it achieve annualized savings of €12 million, much of which stemmed from consolidation by Titan of the large and disparate businesses of PTSB. provider landscape.
"This allowed us to secure the most competitive resources from selected partners in high-spending categories," Dolan says. "For example, the IT reseller landscape was consolidated from 12 to 2 vendors, and the IT consulting and development base from 29 to 10 vendors.
"The approach taken by our joint PTSB-Efficio sourcing team has not only established unprecedented vendor pricing visibility to ensure consistent application across all business areas, it has also encouraged greater collaboration between PTSB and its suppliers."
Dolan says the bank's procurement team identified several separate critical projects that engaged the same key vendors.
"By collaborating with relevant business players, we were able to forge strategic partnerships to optimize the business model," says Dolan.
"We have undertaken a coordinated effort to revise the approach to procurement. We conducted business reviews, researching performance-based fixed-fee contract models and, on the supplier relationship management front, we also helped facilitate closer integration between the parties.
The significant cost savings from Project Titan have enabled the project to succeed in another key area as well: changing the perception of procurement within the bank. Now, it is no longer seen as an administrative function but as the bank's preferred partner for generating competitive and strategic advantages through data-driven cost control.
The program followed a three-phase 12-month delivery roadmap: Waves 1 and 2 included 34 initiatives, while PTSB expects an additional €2 million in savings from Wave 3.
To meet the challenge, the joint PTSB-Efficio procurement team collectively supported the "One Team, One Target" philosophy. This partnership approach allowed both parties to jointly define strategic recommendations and meet objectives.
"The delivery model wasn't typical of a consulting engagement," says Dolan. "It is more common for advisory services to be advisory, with the client executing the recommendations. But, with Efficio, we established a relationship of support and trust, and the two procurement teams presented themselves as a unique collaborative function across the company.
The fact that the project was delivered in the middle of the pandemic, with all parties working remotely, makes the achievement all the more impressive. But COVID-19 was not the only challenge. To succeed, the Titan project also had to convince the staff of the PTSB.
"Most colleagues were unaware of the costs at the time, and they saw Project Titan as a threat rather than a way to help them achieve their own goals," says Dolan.
To persuade skeptics, Project Titan executives worked hard to first understand, and then realign, the company's prevailing mindset.
"Through a series of stakeholder interviews, we got a clearer picture of the key issues," says Dolan. "Leading the company on the path to transformation was critical to its success."
She says that because Titan leaders engaged stakeholders, the changes they introduced "felt familiar and the company developed a greater appreciation for procurement." Key to this process were a number of strategies, one of which was proactive outreach across different areas of the bank.
"This means we were able to develop a pipeline of sourcing initiatives, which allowed us to mobilize the resources we needed to meet our need to strategically source."
Dolan says these new ways of working are now embedded across the Bank and will be refined as the ongoing relationship with Efficio continues to evolve.
Dolan says the collaboration has improved PTSB's procurement function in areas such as:
In-house know-how – "Efficio's subject matter experts were available upon request for various initiatives," says Dolan. "We leveraged their internal benchmarks to have 'should-cost' benchmarks for supplier negotiations."
Strategic Sourcing – "Implementing Efficio's strategic sourcing methodology has revitalized the cost reduction program," says Dolan. "He established cost benchmarks and market analysis of relevant vendors, which helped us develop creative sourcing strategies."
Integrate new technologies – Dolan says, "Efficio's proprietary eFlow technology communication tools have simplified the management and tracking of all vendors.
On the broader point of supplier relationships, Dolan says PTSB is committed to helping them comply with ESG so they are suitable candidates for collaboration.
In conclusion, Dolan says, "If they're not there as a partner yet, we like to go on a journey with them and get them where they need to be. In the grand scheme of things, we are a small organization and we deal with many other small organizations, especially in the FinTech space.
"There's an old Irish saying: 'A rising tide lifts all boats'," she says. "We don't want to penalize suppliers for ESG transgressions, but rather educate them to ensure they comply with sustainability regulations and our philosophy.
"It's really important that we take a partnership approach to helping people in our supply chain, to help them understand how we can help each other for mutual benefit."