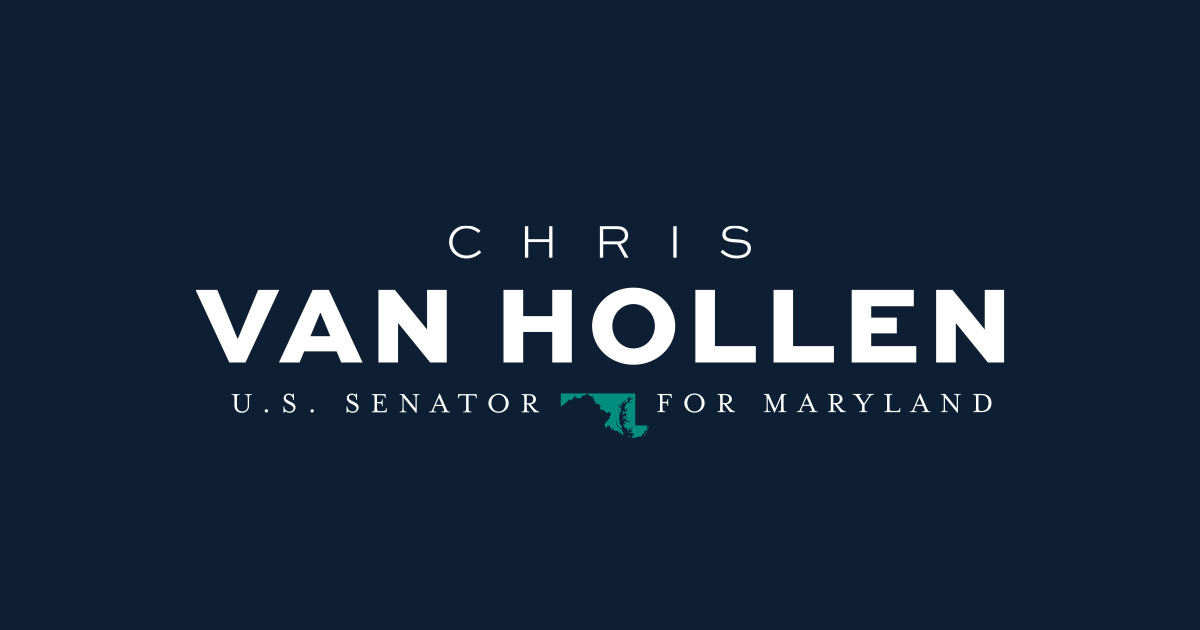 Van Hollen Releases Text of FSGG Appropriations Bill, Including $500 Million in Funding for New FBI Headquarters, Investments in the Economic Prosperity of Our Communities, and Removal of Harmful Legacy Passengers
July 28, 2022
The legislation also strengthens rules preventing an administration from illegally withholding funds directed by Congress, as Trump did with the help of Ukraine; provides additional funds to sanction Russia; and allows the SEC to report on political donations
Today, U.S. Senator Chris Van Hollen (D-Md.), Chairman of the Senate Appropriations Subcommittee on Financial Services and General Government, released the text of the Fiscal Year 2023 Appropriations Bill. The subcommittee funds the Treasury Department, the executive office of the president, the judiciary, the District of Columbia, and more than two dozen independent federal agencies.
"Our federal funding bills should provide investments in the key priorities of our constituents and our country – not divisive and harmful political riders. I am proud to release this legislation that honors this mark and provides federal dollars where they are needed most – to help our communities and our economy grow and prosper – and to increase investments that help protect American consumers, to safeguard our democracy, to support agencies that work on behalf of the American people, strengthen our national security, and more.
"To support our federal workforce and region, this legislation provides $500 million in funding to move forward with a new consolidated FBI headquarters — a priority I have fought for over the past the last decade – to secure a campus that meets the FBI's mission and needs. This bill also nullifies the ability of any future administration to fire public service employees based on political disagreements, using our public service as a partisan punching bag and undermining our federal agencies.
"To protect the autonomy of the District of Columbia, this bill removes legacy divisional covenants that unfairly restrict DC's ability to fund accessible reproductive services and regulate cannabis. It also reverses other harmful Republican poison pills, including the Republicans' endorsement to stop the SEC from providing greater transparency in political fundraising and their attempts to stop the FTC from limiting unhealthy junk food advertising. to our children.
"To bolster our national security, this legislation provides funding for ongoing sanctions to inflict maximum economic suffering on Putin for instigating his unprovoked war on Ukraine. It also strengthens rules preventing an administration from withholding congressional-directed funds without notifying Congress — as the Trump administration has done with the help of Ukraine. In addition, this bill will strengthen our electoral security, through electoral grants that will be used directly to improve our electoral infrastructure so that we continue to maintain the integrity and security of our elections.
"To protect taxpayer dollars, our bill invests in greater enforcement at the IRS to close the tax gap by cracking down on big business and ultra-wealthy households who abuse our system. It also strengthens our ability to prosecute those who commit financial crimes to increase consumer protection.
"And to bring greater prosperity and economic opportunity to our communities, this legislation invests critical federal funds in areas that will directly benefit the American people – funds to support underserved communities, entrepreneurs and small businesses. through the Community Development Financial Institutions Fund. to provide the resources needed to improve taxpayer services and eliminate significant backlogs at the IRS.
"Making sure government works for all Americans should guide everything we do. I am proud to introduce this bill to invest in the success of our communities, our economy and our national priorities.
Senator Van Hollen's priorities in the bill include:
$500 million in funding to move forward with a new consolidated FBI headquarters

Wording to Prevent an Administration from Firing Public Service Employees Based on Political Disagreements (Appendix F)

Wording to strengthen rules preventing an administration from withholding Congress-directed funds without reporting the delay to Congress as the Trump administration did with the help of Ukraine

Removed language that prevented the SEC from finalizing a rule that would require publicly traded companies to disclose political spending to shareholders

Removed language that prohibited the IRS from issuing a rule that would clarify the definition of political activity for 501(c)(4) welfare groups

Stripping the language that prevented the District of Columbia from using local funds to pay for abortion services

Stripping the Language That Prevented the FTC from Limiting Unhealthy Junk Food Advertising to Our Children

$324 million for the CDFI Fund to promote economic and community development and access to capital in low-income communities

$1.124 billion for the SBA, including $179 million for SBA Disaster Loans, which provide assistance to business owners, homeowners and nonprofits rebuilding local communities at the following devastating natural disasters, $311 million for Entrepreneurial Development Grants, $138 million for Small Business Development Centers, $26 million for Women's Business Centers, $41 million for Technical Assistance in microcredit and $3 million for a cybersecurity grant program that will provide small businesses with access to cybersecurity tools.

$13.595 billion for the IRS to help the IRS close the annual tax gap – the amount of taxes owed but not paid – estimated at between $500 billion and $1 trillion a year, improve customer service for working families and addressing aging agency IT infrastructure

$400 million for election security grants

$7 million in one-of-a-kind funding to pay White House and EOP interns

$390.2 million for the FCC, which addresses the opportunities and challenges associated with rapidly changing communications technologies and promotes broadband services in underserved areas, especially rural communities

$212 million to the Treasury Department to support sanctions efforts and other investments that will strengthen U.S. national security, including sanctions related to Putin's unprovoked and violent aggression against Ukraine

$189 million to the Financial Crimes Enforcement Network to continue work on a data system that tracks ownership and control of certain businesses and organizations and helps combat the use of complex corporate structures to protect illegal activity

$430 million for the Federal Trade Commission to protect consumers from deceptive and fraudulent practices and promote marketplace competition by enforcing antitrust laws

$8.476 billion for the judiciary, which includes funding for our federal courthouses across the country up to the Supreme Court, including security needs
---
---
Previous post