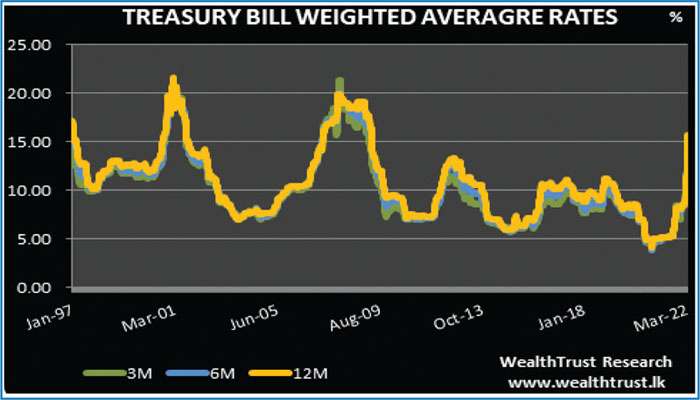 Weighted averages of six-month and one-year Treasury bills exceed 15.00%
---
Three month cross 14%

Weighted averages hit 13-year highs

Bond market at a standstill
---
By Wealth Trust Securities
---

Weekly weighted averages catapulted for a sixth straight week across all three timeframes in its auction held yesterday.
The week-over-week increase in 182-day and 364-day bills was the highest in more than 25 years, registering 311 basis points (3.11%) and 341 basis points, respectively ( 3.41%) to exceed 15.00% and record weighted averages of 15.36. % and 15.69% respectively.
The 91-day bill rose 120 basis points (1.20%), recording a weighted average of 14.12%.
A total amount of Rs. 72.88 billion was successfully subscribed against a total tendered amount of Rs. 80 billion while the bid/offer ratio decreased to 1.46:1.
Meanwhile, the secondary bond market stalled yesterday while in secondary bonds, May 2022 maturities changed hands at levels of 11.75% to 12.25%, ahead of the auction. The latest 91-day note traded at levels of 14.50% to 14.75% after the auction.
In the money markets, the net liquidity shortfall stood at Rs. 586.05 billion yesterday with an amount of Rs. 120.51 billion deposited with central banks SDFR (Standard Deposit Facility Rate) of 6.50% against an amount of Rs. 706.56 billion withdrawn from Central Banks SLFR (Standard Deposit Facility Rate) of 7.50%. The weighted average rates on overnight money and REPO were 7.49% and 7.50% respectively.
Forex market
In the Forex market, a trade in USD/LKR spot contracts was seen at levels of Rs. 312.00 yesterday as the overall market remained inactive.
The total USD/LKR trade volume for April 5 was $14.00 million.
(References: Central Bank of Sri Lanka, Bloomberg E-Bond trading platform, money brokerage firms)